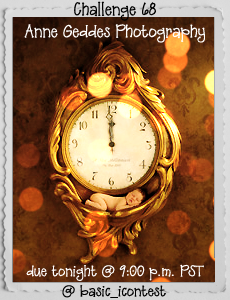 Just six hours to go, and only
10
icons have been entered.
Enter your Anne Geddes icons before 9:00 PST today!
-
Link to general rules
- You may enter
5
icons.
- You may use the given pictures or a picture of your own!
(I encourage you to use the picture(s) in the most creative way possible.)
- Submit your icon(s)
with the URL
in a comment on this post . The comments will be screened.
- Please try to keep all your entries in one comment.
- Keep all icons anonymous until the contest is over.
-
Your icons must meet the LJ Userpic requirements!
(
Collapse
)
Deadline
: Monday, November 26, 8:00pm EST.
The World Clock
# of Entries: 14
We have
15
adorable icons!
Vote for three (3) icons in order of preference and one (1) for Cutest Baby Picture.

Please vote for different icons in each category. NO REPETITION!

Do not vote for yourself and do not tell your friends (or anybody else) to vote for you.

Please vote in the poll, not in a comment!
(
Collapse
)
Voting Ends:
Thursday, November 26, 2007 at 9:00pm PST.